MEGA at the World Resources Forum 2014
At MEGA, besides developing and delivering our Game with Impact to you, we also do research on environmental and entrepreneurial education, gamification, and collaborative eco-innovation. And we enjoy sharing our research results with the global community. You can already find them in our scientific articles in the sectionPublications on our website.
We also present our research and innovation at different environment-focused events. The most recent MEGA presentation took place at the World Resources Forum 2014 in Arequipa, Peru. There Johnathan and Alexander from our team talked about the current state of environmental and entrepreneurial education and how it can be improved with the use of gamification methods and tools. As a case study they showed the organization process, results and impact of the project G.R.E.E.N. organized together with our partner NGO Medium. G.R.E.E.N. became our first off-line prototype of applying gamification to environmental and entrepreneurial education, which is now being used to develop the on-line platform of the Game with Impact.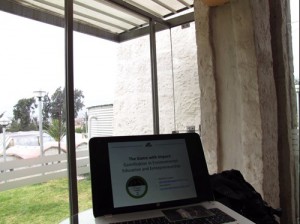 The presentation done by Johnathan and Alexander received much appreciation and good feedback from the participating scientists and environmental activists at the World Resources Forum. We established a number of valuable contacts that are going to be used in the testing of our demo platform.
The presentation delivered at the World Resources Forum 2014 is available for viewing and downloading here. And the research article behind the presentation can be read here.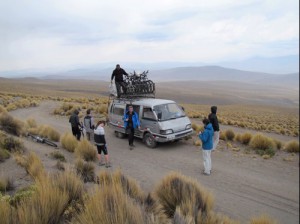 P.S. Of course, after presenting the research results, our MEGA colleagues enjoyed the city of Arequipa, tried local food, and explored the nearby Chachani and Misti volcanoes on bikes.