GreenTech Rangers: It is Time for Eco-Hackathon!
GreenTech Rangers, our educational and pre-acceleration programme focused on social startups in the GreenTech / CleanTech / EcoTech industry, is progressing further. In May 2019, we organized a series of Inspirational Workshops to inspire prospective entrepreneurs for startup ideas that they could develop in relation to the three focus UN Sustainable Development Goals (SDGs) of the programme: Affordable and Clean Energy, Sustainable Cities and Communities, and Climate Action. We also joined our partner YES-Europe Moldova in the conference "Future Energy Leaders", where we presented our programme and other opportunities for developing energy-oriented startups to its participants.

Now, we are moving to the first level of GreenTech Rangers, Seedling, which is dedicated to ideation and preparation of startup ideas and prototypes of their products or services. The highlight of this level is Eco-hackathon, the registration for which we have just opened.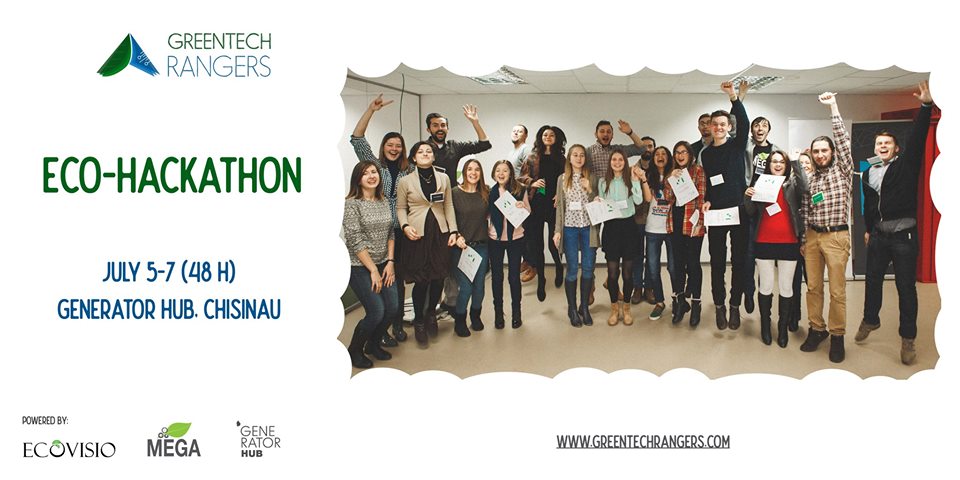 Eco-hackathon is a national competition aimed at supporting prospective social entrepreneurs in finding innovative and functional solutions to address environmental issues related to the three focus SDGs of GreenTech Rangers. It is the second edition of a previously separate project, organized by MEGA, Generator Hub, and Hai Moldova back in 2016.
During 48 hours of Eco-hackathon, its participants will form teams, develop startup ideas, research the problem-solution fit for those ideas, and initiate prototyping of their products or services. By the end of the event, the most promising ideas will transform into functional prototypes and even MVPs (Minimum Viable Products). Afterwards, the most active and successful teams will get additional support to develop their startups further. That support will be in the form of coaching and mentoring with successful local and international entrepreneurs and participation in ClimateLaunchpad, a national and global competition of environment-focused startups.

Eco-hackathon is going to take place in the period of 5th – 7th of July 2019 at our partner co-working space Generator Hub (Stefan cel Mare 202/2, Chisinau, Moldova). Participation in the event costs 6 EUR for an individual and 15 EUR for an already formed startup team consisting of not more than three people. Included in the price of a ticket are working space accessible during an entire weekend, food and drinks, working resources and logistics, and, most importantly, continuous support from our coaches and mentors.
You can register for the event and purchase a ticket at its Eventbrite page. We are looking forward to welcoming you at our Eco-hackathon within the GreenTech Rangers programme in order to bring your environment-improving startup idea to life!

P.S. If you already have a promising startup idea in the GreenTech / CleanTech / EcoTech industry, you can also apply for the green business competition ClimateLaunchpad and use Eco-hackathon to prepare your startup team for it. Participation in the competition is free of charge. You can submit your idea at the ClimateLauchpad website.

GreenTech Rangers with its Eco-hackathon and ClimateLaunchpad in Moldova is implemented by a consortium of three organisations: MEGA, Generator Hub / DNT, and EcoVisio.